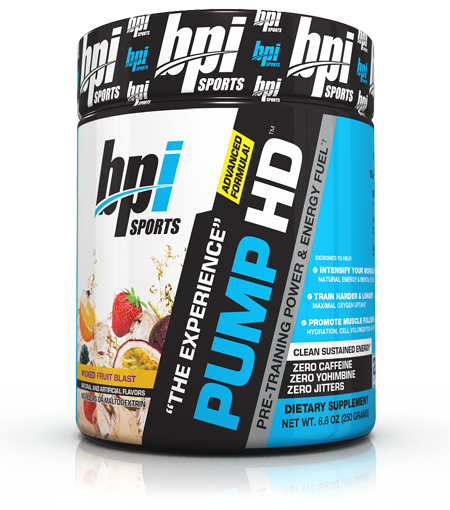 Pre-Training Performance Fuel designed to amplify your ATHLETIC PERFORMANCE and help you TRAIN HARDER.
• INTENSIFY YOUR WORKSOUTS* • TRAIN HARDER & LONGER* • PROMOTES MUSCLE FULLNESS*
Usage
Avoid too large of a meal before your workout or you'll weaken your pre-workout supplement's effects. Drink plenty of water throughout your workout to keep your muscles hydrated.
Below values based on Pump-HD 250g Blueberry Lemon
Per Serving: 1 scoop (10g)
Energy: 25 kcal
Carbohydrates: 5 g
Amount per serving
Niacin (As Nicotinic Acid)

20mg

Vitamin B6 (As Pyridoxine HCI)

10mg

Folic Acid

800mcg

Vitamin B12 (As Cyanocobalamin)

500mcg

Iron (As Ferrous Fumarate)

9mg

Sodium (As Sodium Phosphate)

100mg

Potassium (As Potassium Phosphate)

220mg

CycloCreatine PCr

1g

Glycerol 2X-RS 1g
(Double Strength bonded glycerol monostearate 2X-reptake system)
Adographis (leaf)

1g

(Andrographolides and related Terpendois) Citrulline Silicate

1g

Adaptogenic and Eryhropoietin (EPO) Matrix (proprietary)

1g

Green Tea leaf catachin 98% extract
Cordyceps extract (std. to Cordycepin)
Rhodiola root extract
Echinacea purpurea (aerial parts) extract
Quercetin Dihydrate
Ferrous Fumarate
The Pump Experience Energy with Liposomal Technology (proprietary)

500 mg

Theobroma cacao extract (seed)
Citrus aurantium extract (fruit)
Plumbago zeylanica extract (root)
Phosphotidylcholine

Please note that nutritional information is a guide only. Nutritional breakdown for individual products may vary slightly.
Other ingredients: Citric acid, malic acid, natural and artificial flavours, sucralose, acesulfame-K, silica, FD&C Yellow No. 5, FD&C Red No. 40.
Save